Engraved Signs & Plaques – Custom made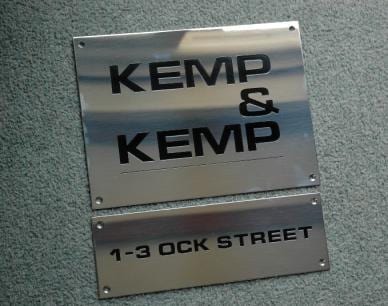 We make all signs & Plaques, Plates to order, one offs and large orders to your specification.
Materials for Interior Use-  Laminate, which is a durable plastic and available in  various colours, Please see the Badge Section for full choice.
Other options are:   Thin  brass, Silver plated brass, Sterling silver, Trophy plates in chrome , gold, Black with silver letters, Black with gold letters.
 Materials for Exterior Use– Thick Brass , Steel, Bronze and exterior Laminate in Black with white letters, Gold or Silver or White with black letters.
Discount available on quantity
Please contact us with your requirements with the following details : the size in mm or cm, Preferred Material, fixing required ( Holes & screws/ double-sided tape or no fixing), Quantity and use for interior or exterior, with a contact phone number. We will then contact you with a price.Thank you.
If you have any queries about any of our products or engraving services, please call us on 07789 584 686 or email info@oxfordengraver.com and we will be pleased to help.
Enquire about this product
Due to the complex nature of the engraving process, we prefer to have some discussion about the exact services you require prior to starting work. To buy this product, fill in the form below and we will get back to you shortly.
* Required
* Only one required
Require a quicker service?
Price: call 07789 584686 for a quote
If you require a quicker service please contact us directly by email or phone
Do you require a custom item engraved?
We have a collection & delivery service in Oxford.
Please contact us for details
Get in Touch